Sprint 56 review - March 15, 2017
Greetings from FOSSASIA 2017 in Singapore! It's exciting to see the growth of the open source movement in Asia and I hope to share more about ManageIQ with everyone I meet here. However, since I'm bustling about at this activity-filled event, I'll have to make this post shorter than usual.
In Sprint 56 we merged 151 pull requests in the main repo, of which 64 are enhancements. The repo with the second highest number of PRs is manageiq-ui-classic with 138. When we look at the big picture across all ManageIQ repos, there's a steady increase in the total number of PRs sprint-on-sprint. Previously we were getting these kinds of numbers for 3-week Sprints, and now in 2 weeks!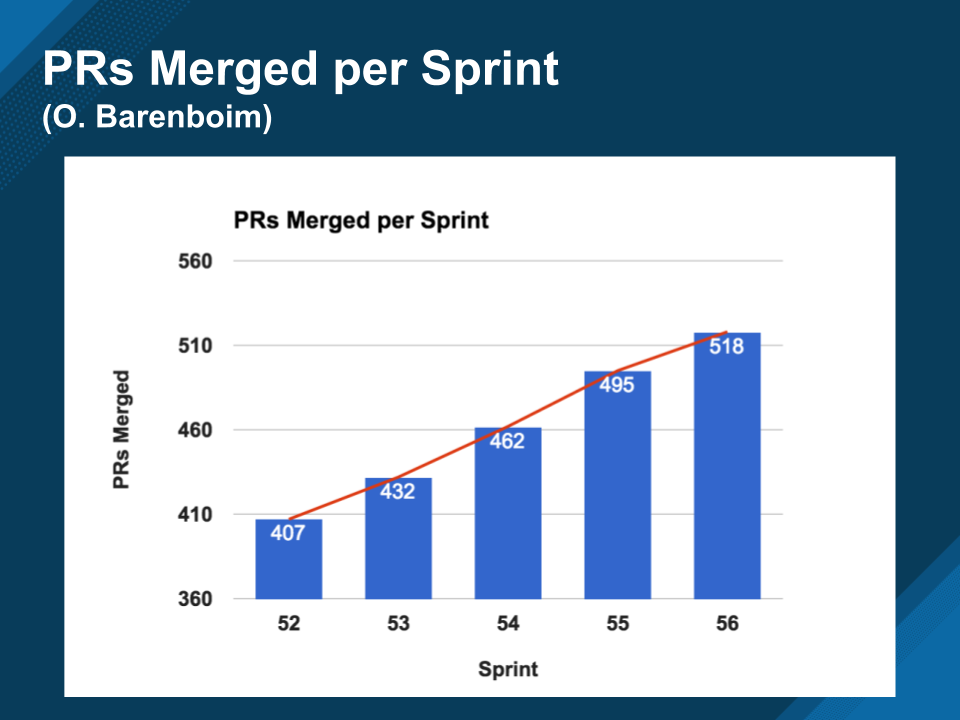 Now that you have the Sprint statistics, I'll leave you with the Sprint video, slides, and LWIMIQ posts to appreciate the work that went in and the rewards reaped over the past 2 weeks. Enjoy!
Sprint 57 review will be on March 29, 2017 @ 7:30 PST/10:30 EST/14:30 GMT (note summer time in parts of the world), in the usual Bluejeans channel. So see you then!
Added
Automate

Alerts: Pass metadata from an EmsEvent to an alert (#14136)
Ansible Tower
Orchestration

Add Picture to Orchestration Template (#14201)

Service Model
Services

Platform

Add remote servers to rake evm:status_full (#14107)
Ansible Tower
Authentication: Ensure user name is set even when common LDAP attributes are missing. (#14142)
Chargeback: Add tenant scoping for resources of performance reports in RBAC (#14095)
RBAC: Add RBAC for rss feeds (#14041)
Reporting: Add archived Container Groups (#13810)

Providers

Create a CustomAttribute for VmOrTemplate labels. (#14202)
Add has_many association for physical_servers (#14086)
Ansible Tower
Cloud Providers
Middleware: Be able to use tls when connecting to Hawkular (#14054)
Pluggable: Ems event groups - allow provider settings (deeper_merge edition) (#14177)
Red Hat Virtualization Manager

REST API
User Interface (Classic)
Changed
Automate

Switched to the latest version of ansible_tower_client gem (#14117)

Performance
Platform
Fixed
Automate

Fix for Service Dialog not saving default value for drop down or radio button [(#14240)](https://github.com/ManageIQ/manageiq/pull/14240)
Avoid calling $evm.backtrace over DRb to prevent DRb-level mutex locks (#14239)

Platform
Providers
User Interface

Added missing second level menu keys for Storage menu (#14145)